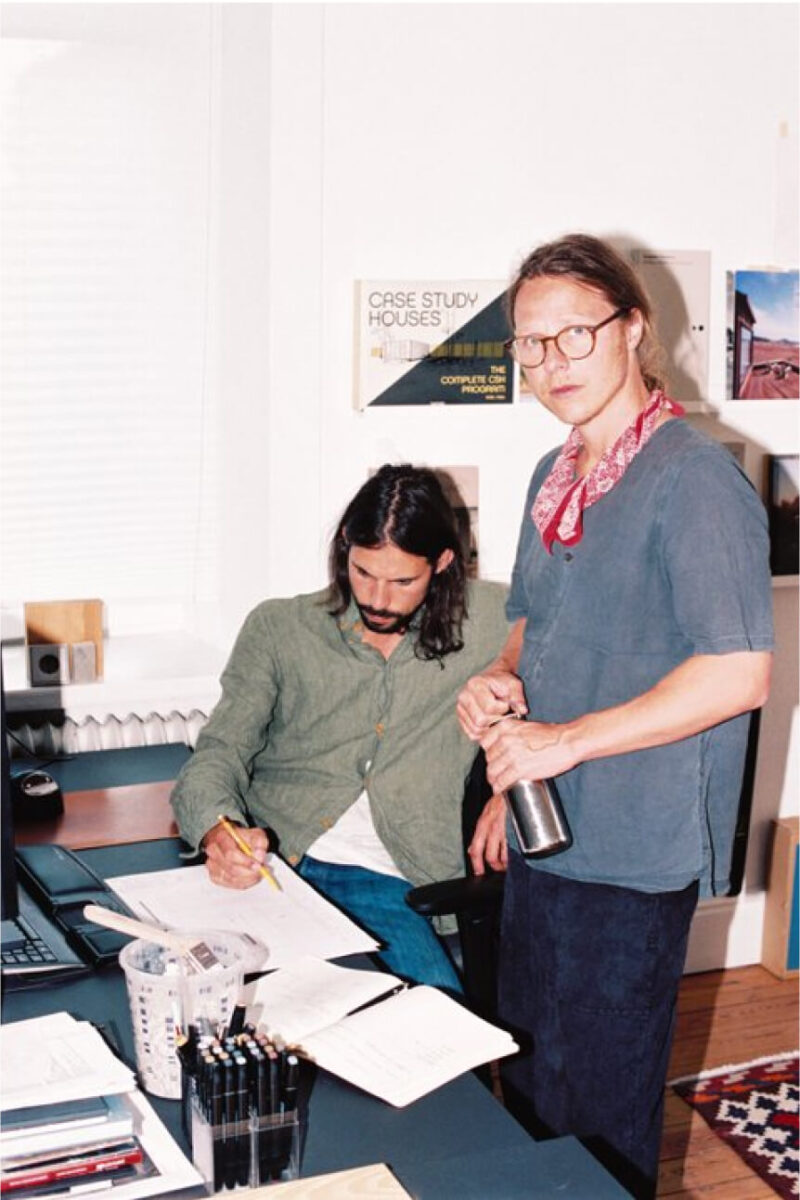 THE PHILOSOPHY
WE ARE AN ARCHITECTURAL PRACTICE!
IN OUR AWARD WINNING ATELIER WE REGARD ARCHITECTURE ONE OF THE FINE ARTS AND OUR WORK AS THAT OF ARTISTS OF ARCHITECTURE. WE BELIEVE THAT BUILDINGS CAN HELP RECONNECT MAN WITH NATURE, SPARK JOY, CULTIVATE CALMNESS AND BE A SOURCE OF INSPIRATION. FOR YEARS WE HAVE BEEN WORKING WITH THE LOCAL GOTLANDIC NATURE AS A GENERATOR OF STRONG ARCHITECTURAL EXPRESSION. WE LOVE CONTEXT BASED WORK, WHETHER IT'S ON A SMALLER OR LARGER SCALE, LOCATED ON THE ISLAND, THE MAINLAND OR ABROAD.
LIKE ARCHITECTS OF PAST TIMES, WE TAKE GREAT PRIDE IN OUR PROFESSION AND STRIVE TO TAKE ON A LEADING ROLE IN THE ENTIRE BUILDING PROCESS. WE SPECIALIZE IN TAKING ARCHITECTURAL PROJECTS FROM INITIAL IDEA TO THE HANDING OVER OF THE KEY TO THE CLIENTS HAND. IN CLOSE COLLABORATION WITH CRAFTSMEN AND BUILDERS WE AIM TO CREATE PRAGMATIC AND BEAUTIFUL SPACES FOR LIFE, INSIDE AND OUT.
THE TEAM
SARA PATRIKSSON, MATS WAHLSTRÖM WALTER and JOEL WINSNES
JOEL HAS PROFESSIONAL EXPERIENCE AS A PARTNER AT VISBY BASED SKÄLSÖ ARKITEKTER AND PREVIOUS EMPLOYMENT AT AQ ARKITEKTER IN VISBY. MATS ALSO HAS PROFESSIONAL EXPERIENCE FROM WORKING AT SKÄLSÖ ARKITEKTER BUT ALSO AT ABELARDO GONZALEZ ARKITEKTBYRÅ IN MALMÖ.
SARAS PREVIOUS EMPLOYMENTS INCLUDES WORK FOR GENERAL ARCHITECTURE, JÄGNEFELT MILTON AND ARRHOV FRICK, STOCKHOLM.
BOTH JOEL AND MATS HAVE DEGREES FROM LUND SCHOOL OF ARCHITECTURE (LTH) AND THE ROYAL DANISH ACADEMY OF FINE ARTS SCHOOL OF ARCHITECTURE (KADK) IN COPENHAGEN. JOEL ALSO HAS A DEGREE IN BUILDING CONSERVATION FROM UPPSALA UNIVERSITY – CAMPUS GOTLAND. SARA HAS A DEGREE FROM THE ROYAL DANISH ACADEMY OF FINE ARTS SCHOOL OF ARCHITECTURE (KADK) IN COPENHAGEN.
THE ATELIER HAS RENOWN ACADEMIC CONNECTIONS DERIVING FROM TEACHING AND LECTURING AT LUND SCHOOL OF ARCHITECTURE (LTH) AND SLU ALNARP. WE REGULARLY DO LECTURES ON DEMAND.
We also have a small but extremely talented group of interns in our studio. Right now, it's Anna, John, and Jakob who are lowering the average age but increasing our competence!